Valiant Men & Daughter's of the King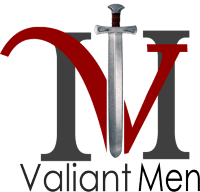 The world is in desperate need of men who will be completely consumed by God. Will you be one of them? Will you allow the fire of God to consume you?
Take the challenge. The challenge to allow God the freedom to do anything and everything in your life that he desires to do. The challenge to be the husband God desires you to be. The challenge to be the father your kids need you to be. The challenge to be a man on integrity, character and passion. Passion for God. Passion for Life. 
What are your core values? Everyone has them but they are not always the right ones. Join us as we go deep into what we believe and how those beliefs affect our actions. Change the belief and you change the behavior.
"Through God we shall do valiantly, and it is He who will tread down our adversaries." Psalm 60:12
It is through the strength of God that men will be found to be valiant. Through regular Bible teaching, special events, retreats, trips, men are encouraged and strengthened in their walk with Christ. The men of LCF are committed to Christ and each other which is what makes this ministry so effective.
---

As a woman in today's world it doesn't take long to feel overwhelmed. Sometimes it seems as though all the pressures hit at the same time. Everyone needs your attention, demands your energy and at the end of the day you feel exhausted. Did you know that there is more to life and it is available for you? Daughter's of the King ministry gives opportunities for practical Biblical teaching, times of refreshing with worship nights, relationship building with other ladies and good ol' fun. Don't keep living in the pressure cooker, engage with the ladies of LCF and experience a freedom like never before. We ladies tend to hide behind our masks, which only keeps us trapped. Are you tired of hiding behind the mask? Are you ready for a breakthrough? Are you ready to dream again? If so God has made himself available for you to take hold of. All you need to do is let go of this world and all it's cares and take hold of God. Will you join the ladies of LCF who are on a journey with God?